The Hero of Primary Health Care in Greece", "The Role Model of General Practice", "The Samaritan on the ancient grounds of Sparta"… These flamboyant terms, quotes of journalists, patients and community members, seem modest in the challenge to describe the inspiring figure of Dr Anargiros Mariolis. Having been the only doctor to receive the ultimate Award by the National Academy of Athens (2016) for his services in Primary Health Care and Greek society, his multidimensional impact is unprecedented.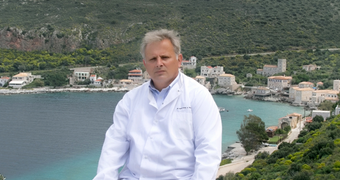 At the age of 30, to realise his first Herculean Labour, he conceived the idea and literally constructed, with huge effort, the first Urban Health Centre in Greece, namely "Health Centre of Vyronas"; he had to act as a decision-maker, to convince governments and stakeholders, providing the scientific evidence for unmet health needs of citizens and cost-effectiveness of the Project and worked to help in the construction process, along with the battle for accessible, equitable and high-quality Primary Health Care for all. Health Centre of Vyronas has been a striking success with persistent impact on the Greek Health System, a system characterised by hospital-centrism, fragmentation and commercialisation. Dr Mariolis, an excellent and charismatic communicator, presented and disseminated the effects of implementing the innovative Urban Health Centre, together with the Prime Minister of Greece in a seminal event covered by all major TV channels and newspapers of our country (2004).

 He has created a multidisciplinary team, working as a leader and team member (GPs; nurses; health visitors; midwives; social workers; administrative employees). The Health Centre has been expanded, with a dedicated Emergency Department, Rehabilitation Department and a diagnostic laboratory. He lives within the Centre to offer his services as an excellent care provider on a 24/7 service basis. His dedication can be noted on stormy days at the sea when coast guard boats are not available. With local boat help, he endangers his life to reach remote beaches, where refugees, immigrants arrive from the sea, waiting to receive care. Dr Mariolis incarnates Primary Health Care as a societal vision for health and development, being an active community leader. He has inspired community campaigns, set an example with his generous actions, and raised funds.